February 23, 2005
Kitayama Forest Opens to Institute of Traditional Japanese Architecture for Educational Purposes
Nippon Paper Industries Co., Ltd.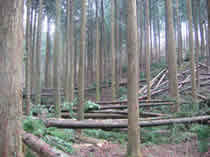 In the Kitayama Forest after thinning
Nippon Paper Industries Co., Ltd. (President: Takahiko Miyoshi) will be opening the Kitayama Forest, a 670 hectares forest owned by Nippon Paper Industries in the city of Fujinomiya in Shizuoka, to the Institute of Traditional Japanese Architecture (Fujinomiya, Shizuoka Prefecture, President: Masuo Watanabe), run by Fugaku Gakuen, for educational purposes. With this project, Nippon Paper Industries is working hand in hand with the local community and offering one of its own forests in Japan as a place for social education.
The Kitayama Forest is located on the southwestern side of Mt. Fuji. With an approximate forest capacity of 140,000 cubic meters, it is filled with plantation of Japanese cedars and cypresses aged 40 and older. On a gently sloping mountainside, it is a sustainable and efficient source of high quality lumber that serves as building materials. In December 2003, the Kitayama Forest obtained Japan's unique forest certification from the Sustainable Green Ecosystem Council (SGEC). This certification is recognition that sound forest management is maintaining both the great natural environment and sustainable lumber production.
The Institute of Traditional Japanese Architecture was established in 1987 by the late Yasuharu Kikuchi, who was a master carpenter and the founding president of Kikuchi Kensetsu Co., Ltd. (Head Office: Shizuoka-shi, Shizuoka Prefecture, President: Yoshiichi Nakao). The mission of the Institute of Traditional Japanese Architecture is to train architectural technicians, equipping them with the skills to continue traditional Japanese building techniques. It is Japan's only four-year occupational college that has a course on the theory and techniques of wooden architecture. In its 2004 academic year, the college launched a new discipline called "Studies on Forestry Resources," to begin providing future architectural technicians with the educational opportunity to learn about forests. Actually producing lumber for building purposes, the Kitayama Forest will now serve as a learning field that gives them practical experience, learning processes ranging from sustainable forest management to lumber production.
* Institute of Traditional Japanese Architecture :
http://www.nihonkenchiku.ac.jp/
(only in Japanese)
* Kikuchi Kensetsu Co., Ltd. :
http://www.kikuchi-kensetsu.co.jp/
(only in Japanese)