Business Description
Paper-pak
Organizational Chart, Paper-Pak Division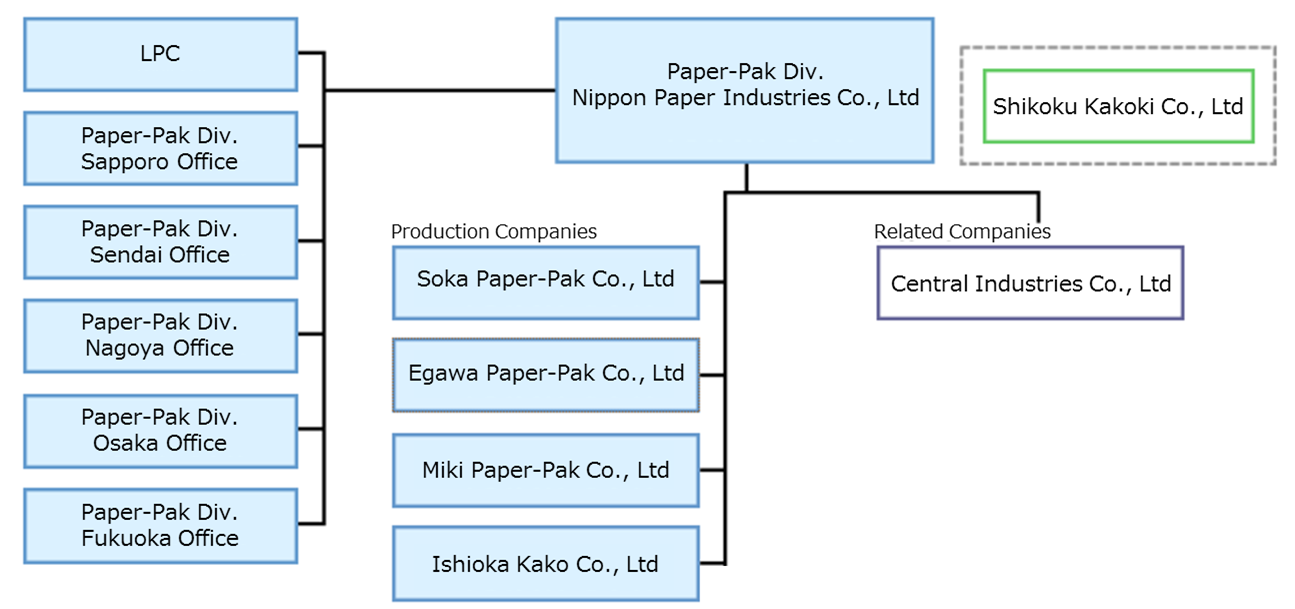 Liquid Packaging Carton Business
Creating a System composed by Trinity : Cartons, Filling Machines, and Maintenance services...
Fully supporting Customers, whenever they need.
The Paper-Pak Division can provide best matching solution for the each customer base on a wealth of experience and superior technical skills using trinity system : cartons, filling machines, and maintenance services.
We propose new packaging systems based on our understanding of our customers' needs.
We propose new packaging systems while repeatedly meeting with the customer to create and form an image of their requirement step by step. The filling machines, we are able to create filling systems at the pinnacle of efficiency and precision and replete with safety features because of our close ties with the national sales agency for Shikoku Kakoki Co., Ltd., the comprehensive manufacturer of filling machines.
And to maintain these filling systems we have a nationwide network of maintenance service engineers who are available not only for inspections and overhauls, but also for urgent troubleshooting issues as well. Filling machine parts are managed in proprietary systems so support can be prompt. We also develop partnerships and mutual trust relationships with our customers through pro-active technical services, including the educational program for the customer to learn how to operate and maintain the filling machines.
Paper Container Business
Proposing a Beloved Package...
Born from a Total System.
We created a comprehensive system that incorporates everything from planning and design to production and delivery.Detailed meetings for the most appropriate package for a variety of different needs result in a planning proposal, which then allows us to produce and assuredly deliver products that meet customer expectations.
From Planning and Design Production through to Delivery
Planning production begins as a result of detailed communication. We design the shape and packaging system line from the package design, using the wealth of experience our staff have to offer. The latest imaging systems are in use for packaging design, such that design can be envisioned from the perspective of person using the product. From the structural perspective, we work to respond to our customers' requirements with design production based in CAD systems, etc.Once the specifications are set for a package, they are processed on the latest digital platemaking system, and then advance on to the production process in a single flow that allows for rapid delivery once production is complete.
Film Business
From safe and reliable household wraps that do not emit dioxin or other harmful chemicals to industrial stretch films that aim to increase efficiency in distribution channels.... we are affecting better environmental features, higher quality and more advanced features in our products.
Further Advances in One Wrap for the Home and You Wrap for Industry
Colorless, transparent cling film products represent a coming together of advanced technologies, invisible to the naked eye. Good examples of that include the additive-free household-use cling film, One Wrap, which gives off no dioxin (a chlorinated compound) when burnt, Heat-resistant One Wrap, with improved heat resistance and ease of use, and Industrial One Wrap, which takes ease of use and economy even further. Furthermore, we continue to respond to more and more new needs for convenience in everyday life in ways that make it safer and more hygienic, including food storage plastic bags and cooking sheets. In addition, as reform takes hold in distribution systems, our You Wrap is earning an excellent reputation as a superior packing material that protects products with both an ease in clinging shut and an ease in opening again.Our Fine Ball is garnering a lot of attention for preventing odor transpiration in water and sewer systems as well as building air purifiers, and we will continue to push the envelope as we develop products that meet the needs of the times.
Environmental Involvement
Nippon Paper recommends the recycling of paper cartons.
At present, roughly 43% of paper cartons are recycled.It's very important to get individuals to understand and cooperate in increasing the recycling percentage so that we might more efficiently utilize our irreplaceable resources.
Nippon Paper is developing various activities in connection with dairy farmers, paper carton manufacturers, related organizations, and recycled paper manufacturers to further instill awareness in consumers, and to expand awareness of paper carton recycling classes and recycling systems.
Tie-ins with External Organizations
The Paper Carton Business Division works together with and supports guilds or activities for external organizations related to paper cartons.
Environmental Communication Magazine: NP-PAK ism
An environmental information magazine issued to request the further promotion of recycling, from the Paper Carton Business Division (formerly the Nippon Paper Carton Co., Ltd.), makers of paper cartons, containers that are better at protecting our environment and resources.