Information
"Kaminnovation!" Let paper do what it can do.
Nippon Paper Group exhibits at TOKYO PACK 2018.
Nippon Paper Industries Co., Ltd.
Nippon Paper Industries Co., Ltd. (President: Fumio Manoshiro; hereinafter "the Company") announces Nippon Paper Group (including nine other Group companies*) will participate in TOKYO PACK 2018, one of Asia's largest general exhibitions for packaging, which will be held on October 2 until 5 at Tokyo Big Sight.

1. Concept: Kaminnovation! Let Paper Do What It Can Do.
Packages become unnecessary after their role for content protection, and they are discarded. For that reason, packaging manufacturers have been asked in recent years to give greater consideration to the environment throughout their value chain, which covers packaging material procurement, package manufacture, sales, use, sorting, collection, recycling and disposal.
Nippon Paper Group will introduce what the Nippon Paper Group views as "Packaging for All Our Tomorrows" from a fresh perspective, including functions previously unavailable with paper and ways for using packages for living, using as its base paper, a recycled material made from wood , a renewable resource.


Booth Image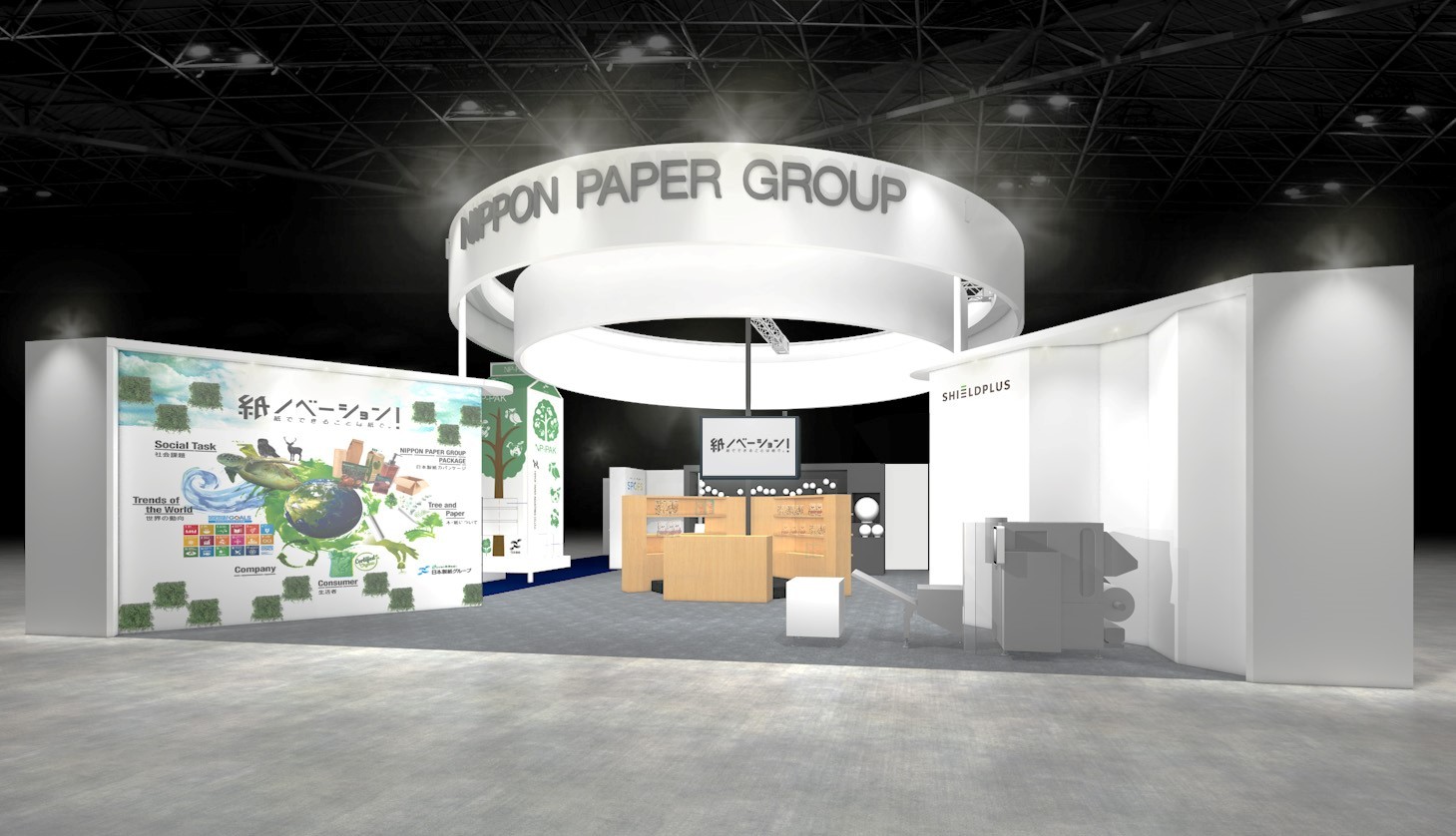 Venue: East Exhibition Hall 1-01
*Group Company List
Nippon Paper Industries Co., Ltd., Nippon Paper Crecia Co., Ltd. , Nippon Paper Papylia Co., Ltd. ,
Nippon Tokai Industrial Paper Supply Co., Ltd. , NP Trading Co., Ltd., Nippon Seitai Corporation ,
Ohta Paper Co., Ltd., Kyouei Seitai K.K., Daishowa Paper Converting Co., Ltd. , DIXIE JAPAN LTD.


2. Highlights of Nippon Paper Group's Exhibition
(1) Major Products for Display
1) Paper Cartons
Nippon Paper Group collected paper cartons they supply as the largest total system supplier for liquid packaging cartons in Japan. In collaboration with Shikoku Kakoki Co., Ltd. (President and CEO: Shigeru Ueda), visitors will have the opportunity to view up how a filling and packaging system operates.
Nippon Paper Group plans to exhibit new paper cartons, which will be released soon using specially designed techniques.

2) SHIELDPLUS®
SHIELDPLUS® is an eco-friendly paper-based barrier material which a barrier coating layer is applied onto a base paper.
SHIELDPLUS® has the following three environmental appeals.
1. Material procurement: Paper used as a base material for SHIELDPLUS® is a recycled material made from wood, a renewable resource.
2. Packaging material composition: Carbon neutrality can be mentioned as a characteristic paper has as a base material. In addition, the ratio of biomass content in entire packages rises by the use of SHIELDPLUS®.
In addition, the ratio of biomass content in entire packages rises by the use of SHIELDPLUS®.
3. Disposal stage: SHIELDPLUS® is biodegradable in the same way as paper is, in other words, cellulose.

During the period of TOKYO PACK 2018, Nippon Paper Group will demonstrate a bag-making system by setting on INSPIRA, a vertical bag-maker, in cooperation with Ishida Ltd (President: Takahide Ishida).

*Today, a dedicated website for SHIELDPLUS® is opened. The website offers additional information about the material. We invite you to visit this site.
https://www.nipponpapergroup.com/shieldplus/

3) Patent-Coated Boards
Products on display at TOKYO PACK 2018 will give visitors a chance to experience abundant variations in patent-coated boards used for confectionery boxes and other applications at first hand.
Visitors will be able to take home the samples of all types of patent-coated boards on display. Moreover, they can view "Sustainable World", an original work by pop-up card artist Seiji Tsukimoto, the inventor of "Sphere", a new type of paper art whose shape changes from a plane to a sphere, and his other productions based on patent-coated boards at the Nippon Paper Group booth.


   Seiji Tsukimoto
   https://twitter.com/TsukimotoSeiji
   Since 2013, Tsukimoto has worked successfully as a pop-up
   card artist in a wide range of fields.
   Book:"SPHERE Fushigi na kyutai pop-up card"
   (Photo: Seiji Tsukimoto and his past work)
(2)Special Seminars
Nippon Paper Group will hold special seminars by remarkable individuals invited from a various range of business circles each day during the exhibition period. The Company will announce the details of these seminars later at its official website. We hope you will attend.
Seminar Program (only Japanese)


Nippon Paper Group is developing packages that contribute to better living and cultural progress as a comprehensive biomass company shaping the future with trees by matching various technologies with paper made from trees, a renewable resource. Nippon Paper Group looks forward to welcoming all visitors at its exhibition booth.


■Overview of Tokyo Pack 2018

1. Date

10 am to 5 pm

Tuesday, October 2 to Friday, October 7

2. Venue

Tokyo International Exhibition Center (Tokyo Big Sight)
East Exhibition Hall 1 to 6

3. Theme

Let's Create Packaging for All Our Tomorrows

4. Sponsor

Japan Packaging Institute (JPI)

5. Fee

Free admission for pre-registered visitors

6. Website