PRODUCTS
SHIELDPLUS - Paper-Based Barrier Material
What is SHIELDPLUS?
After it is produced, the content in a package, especially food, is gradually deteriorated chemically as time passes for reason of environmental changes. The package is therefore required to prevent permeation of oxygen and vapor and deterioration of commercial value of the content. It is also significant for the package to maintain the flavor of the content and to block outside smells from coming in.
We have developed SHIELDPLUS as an environmentally friendly paper-based barrier material by applying onto a base paper completely made of wooden material a barrier coating layer based on the water-based coating technology for papermaking.
Material Composition Image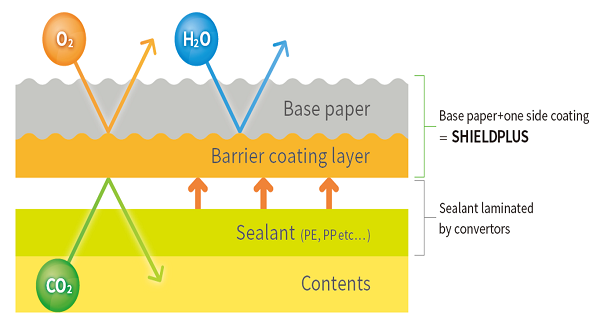 Product Lineup
Two barrier grades are available in the SHIELDPLUS series,which can be chosen according to your application and required physical properties.
■SHIELDPLUS Standard grade
It offers barrier properties equivalent to many types of barrier film.
■SHIELDPLUS Premier(Under development)
The higher grade of SHIELDPLUS achieves enhanced performance, offering properties equivalent to a variety of high barrier film, such as aluminum vapor deposition film.
Features(Quality)
Oxygen・vapor barrier properties
Other Advantages
●SHIELDPLUS is made of paper, which is a renewable and recyclable resource, and can reduce CO2 emissions and other environmental impacts.
●SHIELDPLUS is biodegradable when coupled with a biodegradable sealant film, making the entire package biodegradable.
●It does not interfere with the use of a metal detector.
●Thanks to its paper texture, SHIELDPLUS makes your product appear unique and different from others.
●Because the two layers of the base material and the barrier film can be replaced with a single layer of SHIELDPLUS, the lamination process can be eliminated.


Applications
We will provide broad range of developments by using SHIELDPLUS.


Fragrance preservation・Flavor barrier property
●Paper tube
●Paper bag, Wrapping paper, Gift bag
●Toiletry
●Bag for transport
●Label
Oxygen・vapor barrier properties

●Flexible package,Paper bowl, Paper cup



※ For more detail information, please contact us.
Related Links
Contact Us

Via E-mail Form

Via Telepone

International Sales Dept.

+81-3-6665-1046