Press Releases
Nippon Paper Industries to Undertake Shikoku's Largest Mega-Solar Project in Komatsushima-shi, Tokushima (on land owned by Nippon Paper Industries)
- To generate around 21 megawatts from the latter half of 2014
in collaboration with Mitsubishi Corporation -
Nippon Paper Industries Co., Ltd.
Nippon Paper Industries Co., Ltd. (President: Yoshio Haga, hereinafter referred to as Nippon Paper Industries) will launch Shikoku's largest mega-solar project (capacity of approximately 21 megawatts: Note) in collaboration with Mitsubishi Corporation (President: Ken Kobayashi) on part of the land (approximately 250,000 m2) owned by Nippon Paper Industries in Komatsushima-shi, Tokushima Prefecture. The construction of the facilities will commence this autumn. The electricity to be generated will be sold to Shikoku Electric Power Co., Inc. (President: Akira Chiba) from the latter half of 2014 under Japan's feed-in tariff system (FIT: renewable energy fixed price purchasing system).
The operator of this project will be Nippon Paper Mega Solar Komatsushima Limited Liability Company, a special-purpose company jointly established by Nippon Paper Industries and Mitsubishi Corporation. Komatsushima-shi in Tokushima Prefecture has among the country's highest annual sunshine hours. Shikoku's largest mega-solar project will be operated by taking advantage of Nippon Paper Industries' assets and technology, as well as the expertise that Mitsubishi Corporation has accumulated through its overseas IPP business.
Nippon Paper Industries is actively cultivating new businesses, particularly the energy business, which is one of the Group's profitable businesses, as a comprehensive biomass company that aims to achieve sustainable growth towards the future. To date, Nippon Paper Industries has generated electricity using the power-generating facilities of its plants located nationwide, and has supplied power externally (track record in fiscal 2012: approximately 1.1 billion kilowatts). It is determined to continue actively developing the energy business by effectively using its own management resources, including the land, power-generating facilities and skill to operate these facilities.
Note:

Solar module capacity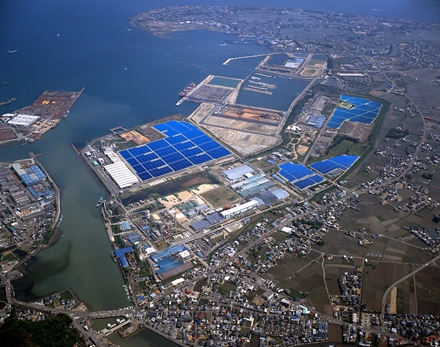 1. Outline of Project

| | |
| --- | --- |
| (1) Location | 1 Toyoura-cho, Komatsushima-shi, Tokushima Prefecture |
| (2) Site Area | 250,000 m2 |
| (3) Power Generation Scale | approximately 21 megawatts |
| (4) Start of Power Generation | the latter half of 2014 (planned) |
| (5) Electricity Sold To | Shikoku Electric Power Co., Inc. |
2. Outline of Limited Liability Company

| | |
| --- | --- |
| (1) Official Company Name | Nippon Paper Mega Solar Komatsushima Limited Liability Company |
| (2) Date of Establishment | March 7, 2013 |
| (3) Capital Structure | Nippon Paper Industries 50%, Mitsubishi Corporation 50% |
| (4) Business Summary | Solar Power Generation Business |