Press Releases
Nippon Paper Industries' CELLENPIA® Adopted by Sakaneya, a Long-Established Japanese Confectionary Company in the Home Territory of the Izumo Ooyashiro
Proprietary cellulose nanofiber that is effective in improving texture and maintaining quality
Nippon Paper Industries Co., Ltd.
Nippon Paper Industries Co., Ltd. (President: Fumio Manoshiro; headquartered in Chiyoda-ku, Tokyo; hereinafter the "Company") announced that Cellenpia®, the cellulose nanofiber that the Company manufactures at Gotsu Mill (Gotsu City, Shimane), has been adopted for the main product line of Sakaneya LLC. (President: Etsuo Sakane; headquartered in Izumo City, Shimane; hereinafter, "Sakaneya"), a long-established Japanese confectionary company in Izumo City, Shimane Prefecture.

The Company developed its proprietary cellulose nanofiber (carboxymethylated CNF, brand: "Cellenpia®") based on carboxymethyl cellulose (CMC), in which it has many years of production and sales experience, and commenced mass production in September 2017. Cellenpia® is already being widely adopted by the food and cosmetics industries. We can expect the further adoption of Cellenpia® as a food additive in particular, as it alone produces a range of effects, including improvements in the fluffy, glutinous, moist texture by its foam-stabilizing properties, improved workability as a result of its thixotropy and low spinnability, lower precipitation of red bean jelly and others, and the extended period of time during which food quality can be maintained.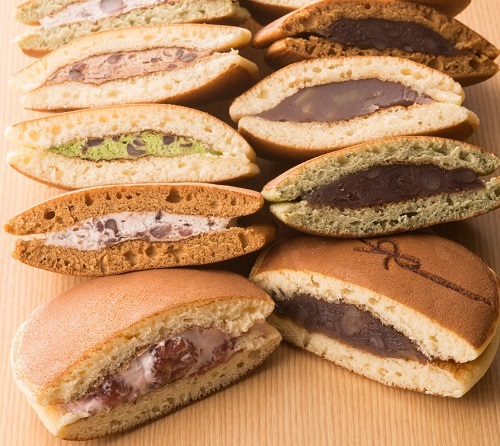 Cellenpia® is used for "Sakura Crepe" and "Nama Dora," which are currently available at Sakaneya stores.
Known mainly for its signature product, Sukune Mochi, as well as Zenzai Mochi, which is popular in temple town Shinmon Dori of the Izumo Shrine, Sakaneya is a venerable Japanese confectionary company with a history of approximately 140 years going back to its founding in 1872.
Sakaneya has continued to make high-quality confectionary with carefully selected, locally produced ingredients. Cellenpia®, which is manufactured at the Company's Gotsu Mill, has been adopted for its adherence to Sakaneya's product concepts "Local production for local consumption" and "Expand the circle of smiles to make connections between people" and its quality improvement effects.
■"CELLENPIA®", Nippon Paper Industries' CNF  



Nippon Paper Industries' CNF is distributed with the brand "CELLENPIA®".
Type
Manufacturing base
Major application area
TEMPO oxidized CNF

Ishinomaki Mill

(Ishinomaki City, Miyagi)

Industry in general

Carboxymethylated CNF

(CM-CNF)

Gotsu Mill

(Gotsu City, Shimane)

Food and cosmetics
CNF-reinforced plastics

Fuji Mill

(Fuji City, Shizuoka)

Structural materials

(e.g. automobile and home appliances)

Nippon Paper Industries will continue to develop more applications in a wider range of industrial fields.