Packaging Research Laboratory (Overview of Technologies)
Heat-insulating paper container: Functionality imparted with vapor and environmentally friendly
New paper containers making use of the Nippon Paper Group's technological expertise

In recent years, paper base is attracting attention from the viewpoint of seeking resources that are alternative to oil. Paper containers are becoming common for pot noodles. While in the past heat insulation properties were added to paper containers by creating a wavy surface or duplex/triplex configuration, there have recently been new insulating containers (heat - insulating paper containers) with distinctive feel to the touch. For these cups, heat insulation properties are added by heating and foaming the extruded layer created on the base paper. Here, foaming is occurred by vaporization of water contained in paper. This technology has been developed by our group company (DIXIE JAPAN LTD), and we provide the original paper.
Making use of accumulated know-how as a top manufacturer of base paper for paper cups and containers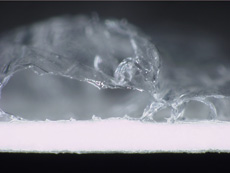 While it is necessary to control the characteristics of base paper within an even, appropriate range in order to achieve superior paper cup quality, we as a top manufacturer of base paper for paper cups ensure excellent quality in foam insulation cups by using paper cup production technologies we have cultivated.
Supporting the stable/high-quality production through technological development including a downstream process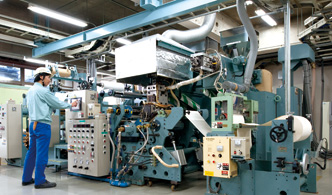 Production of foam insulation cups goes through the following processes: base paper making, extruding, printing and molding/foam processing. Since each process has a large influence on product quality, we supply the base paper that is most appropriate from a comprehensive standpoint. As for extruding,using our extruding processing machine, we are conducting research to find out how processing conditions (resin type/content, surface treatment method, etc.) influence foam insulation cup quality and productivity.
Stable quality ensured by high analytical technology
"Heat insulation property", "moldabilty", and "beautiful cup surface" are important for foam insulation cups. We are examining evaluation methods for these quality characteristics, as they greatly influence image and safety of the product. The aim is to achieve stable quality that is satisfactory to every customer.