Packaging Research Laboratory (technology overview)
NS-FUJI
NS-FUJI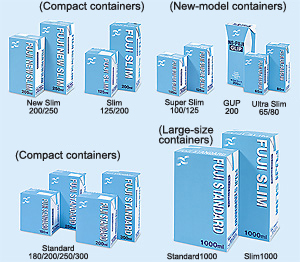 NS-FUJI presents a wide range of variations on product types, from the regular Standard, Slim, New Slim, and Super Slim forms to Ultra Slim, the world's smallest* liquid carton (65 ml and 80 ml), and GLIP for special forms.
The line also meets customer requests for material composition matched to pack contents.
* Based on information compiled by Nippon Paper
New product overview: Aluminum-free NS-FUJI
Usable for long-term storage at room temperature, NS-FUJI aseptic containers are constructed by layering polyethylene and aluminum foil as a barrier layer on top of paper base material, to protect the contents of carton.
Because of growing environmental awareness in recent years, and to provide a container that further reduces environmental impact, we developed the "non-aluminum NS-FUJI" in which the aluminum foil used in the barrier layer was replaced with a special transparent barrier film. This results in a aseptic container that can be collected and recycled in the same way as milk cartons.
Overview of new-model filling machine: UP-FUJI-MA90
The UP-FUJI Series of filling machines for NS-FUJI containers can be used for capacities from 65 ml to 1000 ml. Three models are available: the MA60, suitable for multi-product, small-lot production with same-diameter, two-size switchable fillers; the MA90, which leverages size switchability while offering high-speed filling and packaging for 9,000 packs (300 ml or smaller) per hour; and the LA60, for large-size applications. The UP-FUJI-MA90 model introduced here is a high-speed filling machine with same-diameter, two-size switchable fillers, able to fill 9,000 packs per hour.
New-model filling machine development concept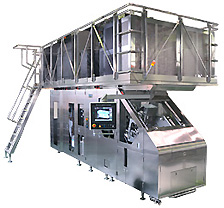 Simultaneous use of same-diameter, two-size switchable fillers is possible (size change)
Capacity: Maximum 9,000 packs/hour
Easy operation
Easy maintenance
Energy conservation and reduction of running cost