Research Laboratory (Overview of Technologies)
Papermaking technology
Development of wet end technology for resources saving
In an effort to reduce our burden on the environment, we are promoting resource saving that includes a reduction in our pulp usage and an increase in our utilization of waste paper and calcium carbonate. To address issues that arise during these efforts, the Research Laboratory is undertaking the development of chemicals and technologies used in papermaking processes (wet end), making use of equipment that enables online evaluation of the performance of chemicals and the change in pulp slurry (Photo).
Visualization of the change in pulp slurry state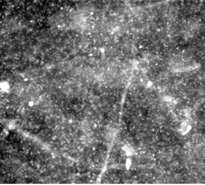 Before addition of chemicals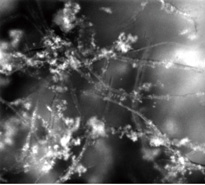 After addition of chemicals
Increasing the use of low-grade waste paper through new evaluation methods for adhesive contaminants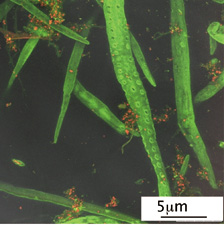 Adhesive contaminants from stickers and similar objects are often mixed in with low-grade waste paper. The Research Laboratory evaluates these contaminants, which have been broken down into small particles during the recycling process, by applying fluorescent probe microscopy and new technologies developed in the field of biochemistry (quartz crystal microbalance). By efficiently controlling the contaminants through these technologies, we are working to increase the use of low-grade waste paper.
Development of environmentally friendly deinking technology
One problem associated with paper recycling is decreased strength of pulp fibers and recycled papers due to the cutting of fibers during the mechanical process of removing ink from the fiber. To address this problem, we have developed an original deinking technology. By shooting pulp into water at high pressure and speed, cavitation (CV) bubbles are generated around submerged jet. The impact force caused by the collapse of CV bubbles detaches ink from the fiber. We have discovered that the treatment decreased dirt speckles and contaminants without deinking chemicals and high temperature. Moreover, CV treatments minimized fiber damages and this resulted in an improvement of the paper strength made from the treated fibers. Therefore, the CV jet technology can be seen as an environmentally friendly deinking technology that could not be achieved conventionally (Received 2008 EPE High Impact Paper Award by the Technical Association of Pulp and Paper Industry).

Development of on-line measurement and a control system for fiber orientation
The basic properties of paper depend on the fundamental structure of the paper formed at wet end process of the paper machine. We have established technologies to control the fiber orientation based on the knowledge of hydrodynamics and have developed the world's first instrument for online measurement of fiber orientation. Moreover, by advancing these technologies, we have succeeded in developing a system to control fiber orientation automatically.
The introduction of this breakthrough system has enabled the stable production of high-quality paper.