Packaging Research Laboratory (technology overview)
Paper containers
Paper containers
Our highly experienced staff performs design that ranges from package design to forming and packaging system design. In package design, we have adopted the latest imaging systems to design concepts from the standpoint of product users. In terms of structure, we perform design and manufacture using CAD and other systems to meet customers' demands. When all requirements for a package have been determined, we undertake processing using the latest digital platemaking system, then advance to production processes, finish the product on an end-to-end production line that spans printing work to forming, and finally, rapidly deliver the product.
A varied product lineup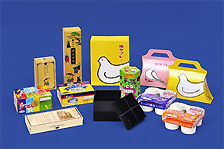 Cartons for foods
Tissue cartons
Cartons for cosmetics
New product overview: Heat-resistant paper trays
By laminating paper base material with special resin, we imbue the paper with heat-resistant properties for use in microwave ranges or ovens.
*

Frozen pasta, gratin, etc.