Business Description
Chemicals
Chemical Business (formerly, Nippon Paper Chemical Co., Ltd.)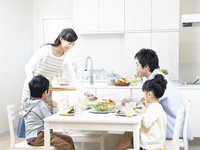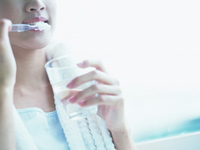 Products from the Chemical Business Division might not be grabbing many headlines, but they play critical roles in a variety of fields. Say, for example, you wake up every morning, brush your teeth, and then drive to work after eating breakfast.At work, you operate a PC, talk to clients on a cellphone, and, when on a break, have a canned beverage.
How many of Nippon Paper's fine chemical products are you encountering in the course of these everyday activities? Our products are at work within the toothpaste, as flavoring agents in your breakfast foods, underneath the coating mixture of your car, within the concrete of the building you work in, in the LCDs of the PC and cellphones you use, and within the canned beverage you drink.Taking as our motto the ability to rapidly respond to customers as we continue to be a company that is gentle to both the environment and individuals, we believe that, through our products, tomorrow can be even finer.
Manufacturing Sites

Gotsu (Shimane Prefecture): dissolving pulp/functional chemical products
Iwakuni (Yamaguchi Prefecture): functional chemical products/functional coating resins
Higashimatsuyama (Saitama Prefecture): functional films
Yufutsu (Hokkaido): functional chemical products
Dissolving Pulp/Functional Chemical Products
Dissolving Pulp
Our dissolving pulp is made using the sulfite method, and is highly processed. As such there are very few impurities, and it is extremely white in color.
Functional Chemical Products

We have a range of diverse products such as specialty chemicals that use cellulose derivates and wood components such as lignin, and foodstuff additives derived from our biotechnology work.
Functional Coating Resins

SUPERCHLON (R) (chlorinated polyolefin) and AUROREN (R) (modified polyolefin ) are mainly added to coating mixtures, inks and adhesives, offering a favorable adhesiveness to polypropylene and other base substances.They are used in automobiles, buildings and wrapping films, among other things.
Functional Materials Business
Functional Film

Our latest clean coating technology is meeting expectations with its rapid development system to provide solutions not only for LCD TVs, computer screens and notebook PCs, but also new uses such as tablet PCs and smartphones.