Functional Film for Displays
Clear Hard Coat Film (CHC)
NPI provides hard coat films for liquid crystal displays (LCD). Our products are characteristically designed and precisely coated.
Anti-Glare Hard Coat Film (New Clear; NC)
NC is a product that combines anti-glare and high-contrast characteristics with high color reproductivity. This is achieved to control the smoothness of the surface and haze and can produce high definition panels.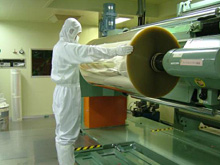 Inquiry

Telephone

Chemical Sales Dept.Ⅲ

+81-3-6665-5970